Plastic fantastic
A story about real heroes in a world that wants to be saved.
What do you do when you are different than normal? What if you want to be like everyone else? What if you could travel to a world where everything is different? Where everything is possible?
Plastic Fantastic! offers an escape from the realities of the every day.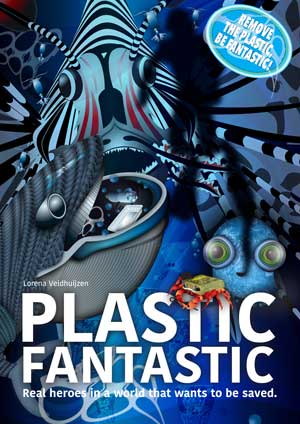 Now available at these fine stores …
"Plastic Fantastic! is a story about how the world around you can swallow you up–and how you can not only survive, but thrive. It's about outside versus inside. About how plastic your life can feel literally and figuratively."
"Plastic Fantastic is at the crossroads of Finding Nemo and Wonder while at the same time helping save our planet." — Bradley Charbonneau, editor
Plastic Fantastic is about Zero, a squid without arms that floats aimlessly in the ocean. Then he meets Hero, a fish stick that escaped from the deep fryer of a cruise ship. Together they travel to Plastic Fantastic to arrange new arms for Zero. An adventure that ends in an ominous place and that will change the life of Zero forever.
Lorena Veldhuijzen debuted in 2012 with the bestseller Adventures of Glass. Plastic Fantastic is her first international edition. Lorena Veldhuijzen is a children's book author and writing coach and encourages young and old to write from the heart.